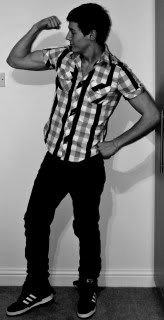 Hey guys & girls,
That picture of me was taken about 2 years ago - I loved my life. How could I not? I had everything; a loving family, a roof over my head, friends, a girlfriend, a promising football career - nothing to complain about. 
Here I sit, 2 years later in exactly the same position…bar one thing - I've spent the last year of my life struggling with an illness. An illness that to most people would make me weak, or require the response 'get over it, you have nothing to complain about in your life'. An illness that unfortunately comes with an overwhelming stigma. That illness is depression. 
I have watched a few programs about how sports stars cope with depression recently and they were brilliantly executed. However, there isn't much out there that highlights how an average person would obtain, confront and conquer depression. What are the differences between your average Joe and Andrew Flintoff?
The aim of this blog is to inform, through my personal experiences, the general public about this illness. How it can manifest itself, the effects of it, ways of coping, etc. 
I want to eliminate some of the stigma surrounding the illness in an attempt to deliver a better understanding of the condition. People suffering with this need better support networks, to not be made to feel 'weird', to not feel like they are better off dead.
To me this is a very important topic, and I will be absolutely honest about the last year of my life - starting from the very beginning.